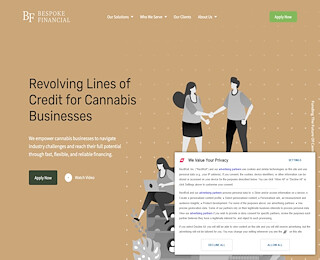 In states where cannabis has been legalized, marijuana-related businesses are thriving. Businesses like dispensaries grow operations, and manufacturers are seeking capital to help them expand their reach and stay competitive with other businesses in the marketplace.
But getting a business loan can be challenging for any business, let alone one involved in an industry that is still technically illegal on the federal level. Fortunately, there are cannabis loan lenders offering cannabis business loans.
What Makes Cannabis Business Loans So Difficult To Secure?
Cannabis business loans have come under considerable scrutiny, with some banks refusing to fund businesses associated with marijuana at all—even ones operating in legal states. Additionally, federal law still classifies marijuana as illegal (though state laws are changing that). Banks see marijuana-related businesses as risky and unappealing, which makes them especially reluctant when it comes time for funding.
Is It Possible For a Cannabis Business to Borrow Money From a Bank? Or Should I Consider Alternate Funding Sources?
When you start a cannabis business, you will likely look at traditional financing avenues like bank loans or even credit cards for cannabis business funding. However, due to marijuana still being illegal at a federal level, most banks will not offer lending options for cannabis businesses. So what are your other options? Borrowing money through private funding sources is just one of them.
Types of Funding Available For Cannabis Businesses in Michigan
Merchant Cash Advances
Merchant cash advances finance, allowing businesses to accept credit card payments while immediately funding those charges. This means that a business can have the liquidity to grow its business and not wait for a customer to pay before making another purchase.
Invoice Factoring
Invoice factoring can be a great business loan alternative if your business cannot get funding from a bank. Factoring companies will offer you capital for your invoices for a percentage of the invoice value.
Equipment Financing
The cost of outfitting a cannabis business can run into hundreds of thousands of dollars. Typically, you'll need financing for everything from industrial equipment (like grow lights and watering systems) to desks and computers.
Equipment financing is a line of credit used to purchase equipment for your business. It offers flexibility in that you can borrow most of the money upfront and make payments later.
Crowdfunding
Crowdfunding is one way of getting a marijuana business off its feet. The term refers to sourcing funds from individuals who contribute small amounts. A Crowdfunding campaign can be reward-based or equity-based. Contributors to reward-based Crowdfunding get a reward, usually a form of service or a product the company offers. In equity-based Crowdfunding, contributors receive an ownership stake in a company in return for their investment.  
How do I get a loan for the cannabis business in Michigan?
Whether you are looking to launch a new business or scale an existing one, we want to ensure you receive long term loans for businesses you need at a competitive rate. If you're interested in Michigan Cannabis Business Loans, contact Bespoke Financial today at 323-508-1280 or email sales@bespokefinancial.com to get started.